Computer Literacy and ICT
Objectives
Form 1-3 Computer Literacy
Through the computer literacy training in the junior forms, students will be able to:
develop the ability to process and present information independently or collaboratively with peers;

use information technology to present information and ideas effectively;

be aware of intellectual property rights, data privacy issues, etc. and observe the rules and regulations on handling information;

apply good communication and presentation skills to influence and obtain the desired responses from the intended audience;

develop simple programmes to solve problems;

show concern about the development and applications of information technology and its impact.
Form 4-6 ICT
In the three-year senior secondary ICT curriculum, students work towards the following learning targets including the categories of "Knowledge and Understanding", "Skills" and "Values" and Attitudes".
Knowledge and Understanding
Develop knowledge and understanding of the range and organisation of computer systems, and the interrelationships between hardware, software and data; and

Realise the social, ethical and legal issues pertaining to the use of ICT.
Skills
Use a range of application softwares effectively, ethically and with discrimination to support information processing and problem-solving; and

Demonstrate an understanding of methods for analysing problems, and planning and implementing solutions using ICT.
Values and Attitudes
Appreciate how information literacy and the sharing of knowledge using ICT influence decision-making and shape our society; and

Develop responsible and positive attitudes towards the use of ICT.
Contents
Form 1-3 Computer Literacy
Office automation including word processing, spreadsheet and presentation;
Multimedia production including sound editing, animation and video editing;
Coding including creating game and Pascal programming.
Form 4-6 ICT
There are core parts and elective parts (software development) in ICT.
Core parts
A. Information Processing
Introduction to Information Processing
Data Organisation and Data Control
Data Representation
The Use of Office Automation Software
Presentation of Information
B. Computer System Fundamentals
Basic Machine Organisation
System Software
Computer Systems
C. Internet and its Applications
The Networking and Internet Basics
Internet Services and Applications
Elementary Web Authoring
D. Basic Programming Concepts
Problem-Solving Procedures
Algorithm Design
Algorithm Testing
E. Social Implications
Equity of Access
Work and Health Issues
Intellectual Property
Threats and Security on the Internet
Elective part (Software Development)*
Programming
Programming Languages
Systems Development
* The programming language is Pascal language in the elective part.
Please refer to the HKDSE ICT syllabus (Selected module: Module D Software Development) for details.
Features
Students with IT competency have advantages in studying various subjects.
Coding, one of the main themes in our curriculum, definitely trains up our logical mind.
Achievements
Various activities, tours and competitions have been organized.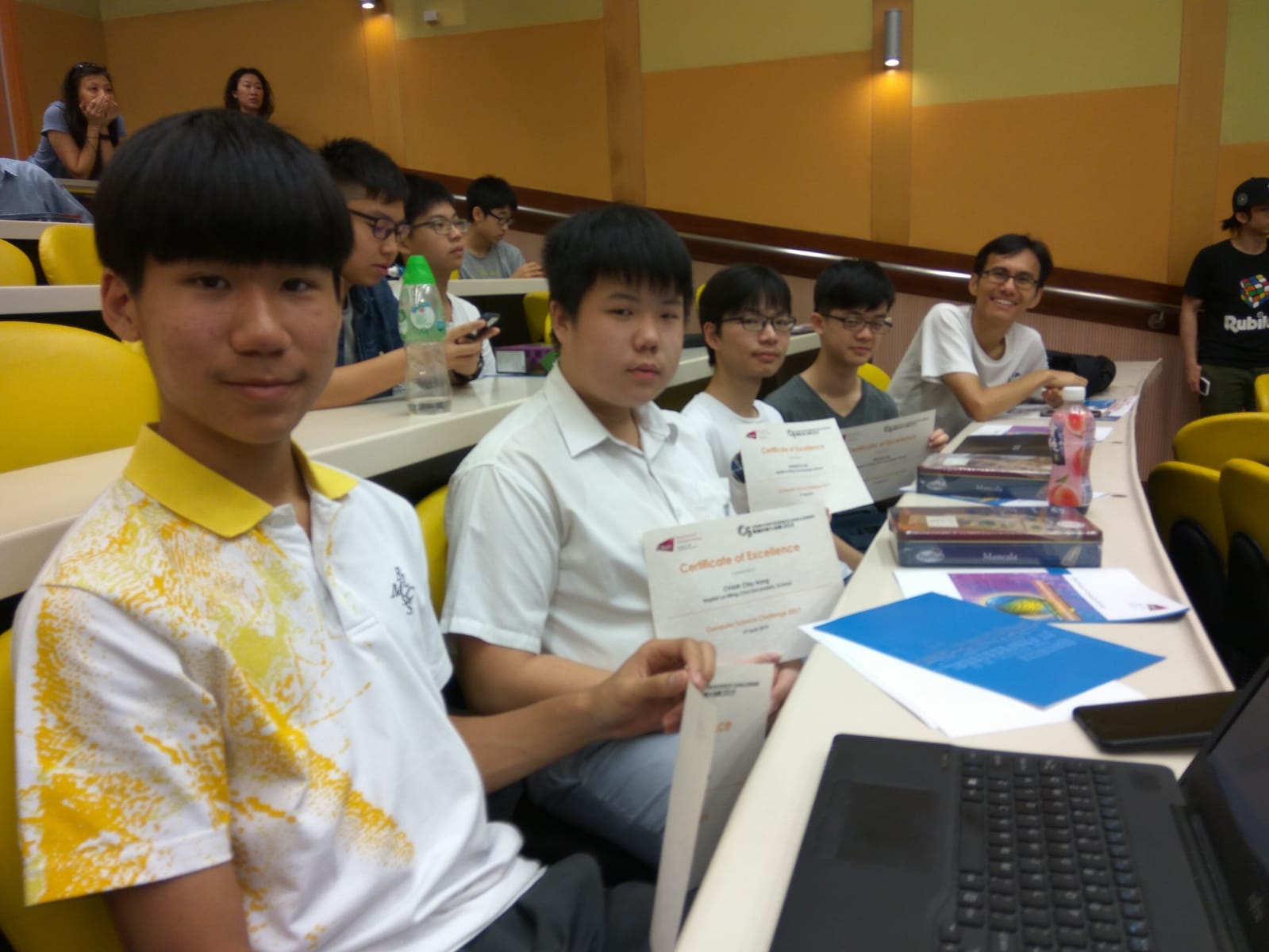 Computer Science Challenge 2019 (27/04/2019)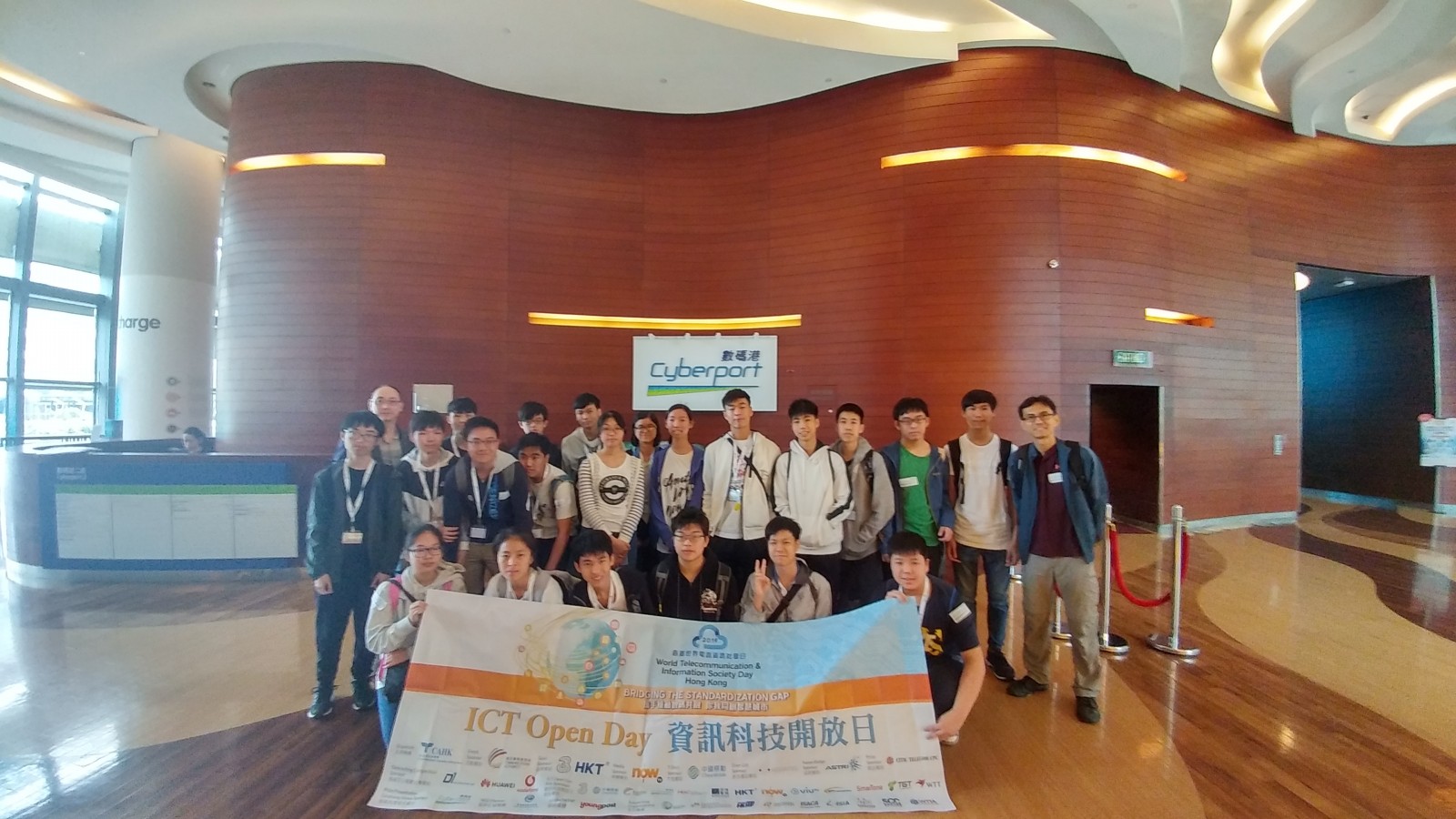 IT Exploration Tour - Cyberport (30/03/2019)