LAC & EEP
English is adopted as the medium of instruction in BLMCSS. Subject departments work in concerted efforts to consolidate students' language skills and subject knowledge via cross-curricular planning and the launch of various subject activities.
Understanding the challenges F.1 students may have in adapting to the English-medium learning environment, a bridging programme is organized by the English Department in August. In collaboration with different EMI subjects, tailor-made teaching materials are prepared. The programme is conducted by native speakers from Chatteris Education Foundation and the interactive learning experience lays the ground for BLMCSS students' proactive expression of thoughts and natural conversation in English.
Curriculum Elements and Language foci in EMI subjects
An LAC approach is adopted to integrate language learning and content learning. Aside from academic content, EMI subjects also take into consideration the language objectives such as language items, language skills and communicative experiences in English we expect students to achieve while mapping out the curriculums. When designing the curriculum, a balance was struck between language use and students' cognitive development. A progressive development of language use is intended, with different language foci in different forms.
To begin with, in terms of language items, emphasis on accurate grammar, sentence structure and vocabulary is put in humanities subjects, e.g. History and Geography, to ensure students grasp key ideas clearly and express their understanding of subject content effectively in essay writing. Likewise, for Science subjects, the language foci are on students mastering the format, paragraphing and register when writing a lab report, experiment procedures or an account of a scientific phenomenon.
The four language skills, namely reading, writing, listening and speaking are strengthened with the use of various assignment formats and mixed learning modes in respective content subjects. For instance, in History and Science lessons, students are asked to write to describe, read to comprehend and then answer orally to explain what they have learnt and discovered. These skills empower students to present their thoughts and responses accurately and precisely.
Upon leveraging the language items and skills, communicative experience in English is then feasible. Students are able to engage in discussions, debates, presentations and interviews with clear organization of thoughts, accurate use of language and fluency in presentation. All in all, the thoughtful scaffolding of curriculum elements and language foci integration paves the way to a fruitful and progressive development in students' language use and subject knowledge.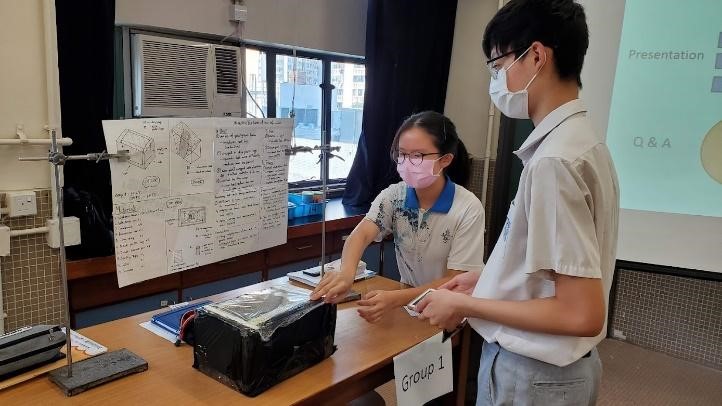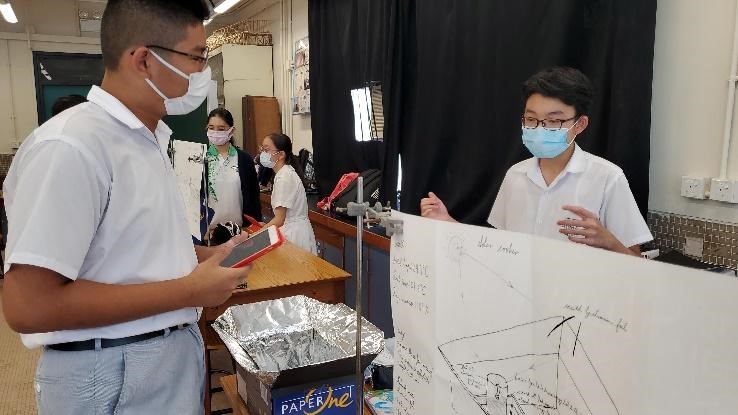 Students presenting and explaining their design principles for the solar cooker project. (Physics)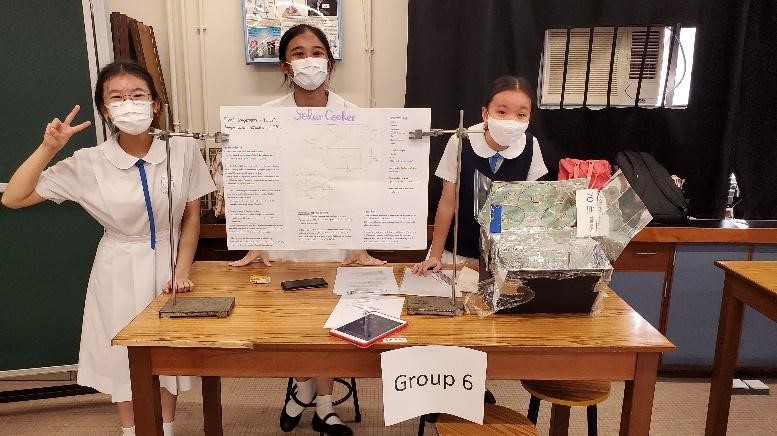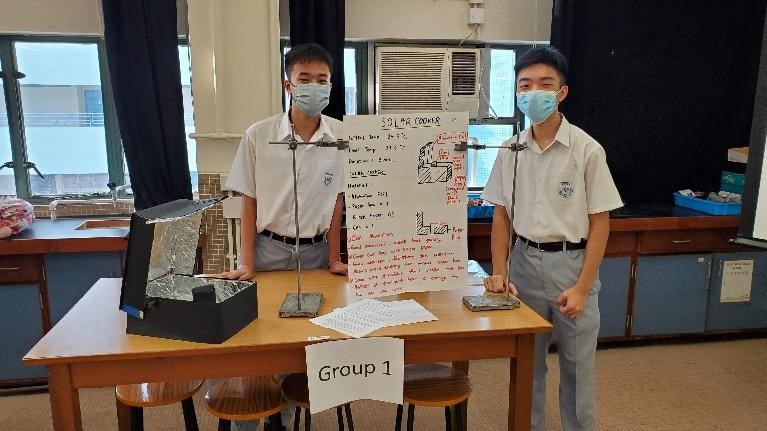 Students are proud to present their self-designed solar cooker to their peers. (Physics)
Cross-curricular Planning
Language and content are closely interrelated – content subjects provide a context for language while effective language development facilitates the learning of content subjects. In view of that, detailed and comprehensive curriculum mapping has been done in different content subjects. This enables teachers of different disciplines to cooperate, get support in dealing with language in learning issues as well as to work for a common target on students' learning journey. For one thing, cross-curricular planning provides information for the English Department to adjust, modify and enhance the English Language curriculum. For another, it forges greater connection between English Language and EMI content subjects. For instance, audio-visual editing skills acquired in Computer Literacy are applied on the filmmaking project in English Language. Meanwhile, the discussion of environmental issues covered in English Language reinforces the knowledge of related topics in Geography. In general, presentation skills taught in English lessons also equip students well for presentations in other content subjects. Such subject collaboration and cross-curricular implementations truly actualize the design principle of LAC – language skills and communicative experiences in English acquired from one subject are applicable in other subjects, improving alignment between subjects' language needs, students' current learning levels and targeted learning progress, which clearly have been of mutual benefits to both students' learning and subject teaching.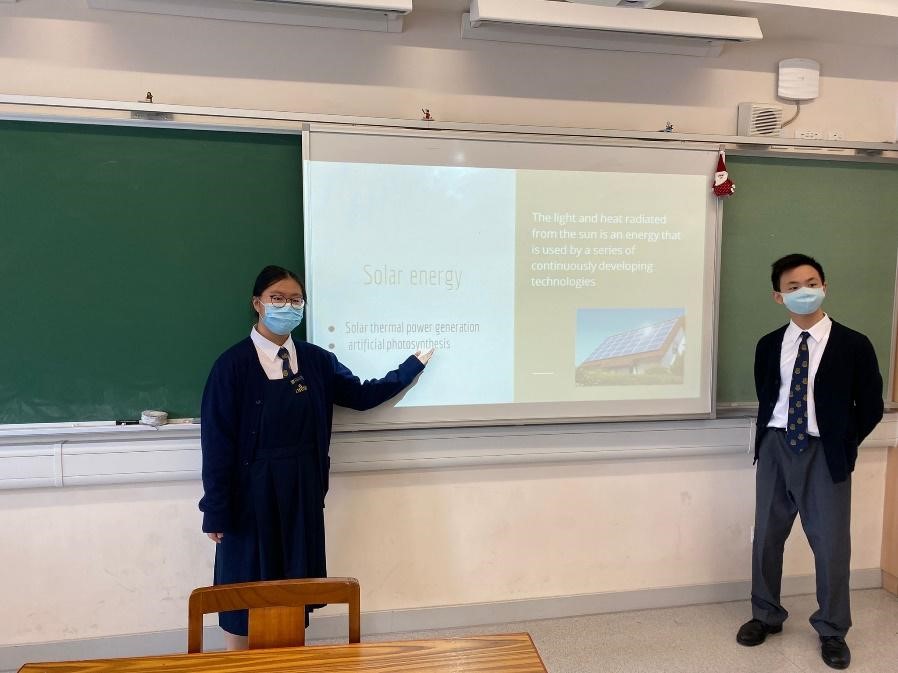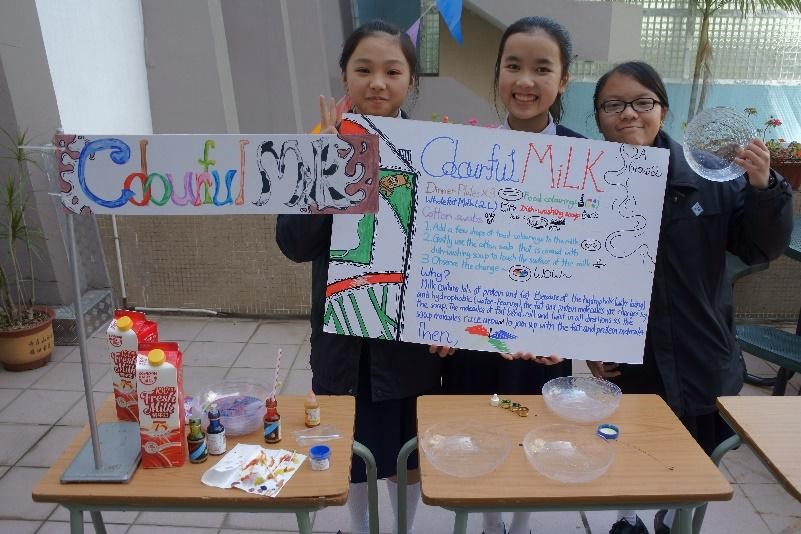 (Left) Students do presentations on global environmental issues (Geography- English)
(Right) Students demonstrate the making of colorful milk at Science Fun Fair (Science)
Extensive Reading Scheme (LAC books)
The English Extensive Reading Scheme in F.1-3 providing an array of LAC books of different subjects serves to cater for students' diverse interests and promote a strong reading culture on campus. Moreover, the scheme grants students greater exposure to the topics they learn in different EMI subjects, enriching their vocabulary while consolidating their subject knowledge.
Cross-curricular English Activities
Apart from classroom learning, extended activities conducted in English widen students' exposure and encourage them to use the language naturally while interacting with their fellow schoolmates. In 2016, with the assistance of World Jewish Congress, students were honored to have a chance to hear a thought-provoking talk by a holocaust survivor, Mr. Micha Gelber, upon their reading of The Diary of Anne Frank. Themed English Weeks also engage students in fun English learning activities; The English Society, Economics Society, BAFS Society and Pop Culture Society collaborated to conduct a variety of activities (e.g. EC Shop, origami bookmark making workshop, etc.) on English Days. In addition, an orienteering organized by the Geography department and the annual Fun Fair launched by the IS department are proven successful in providing coherent learning experiences for participants, who are required to cooperate and apply their subject knowledge flexibly in the activities.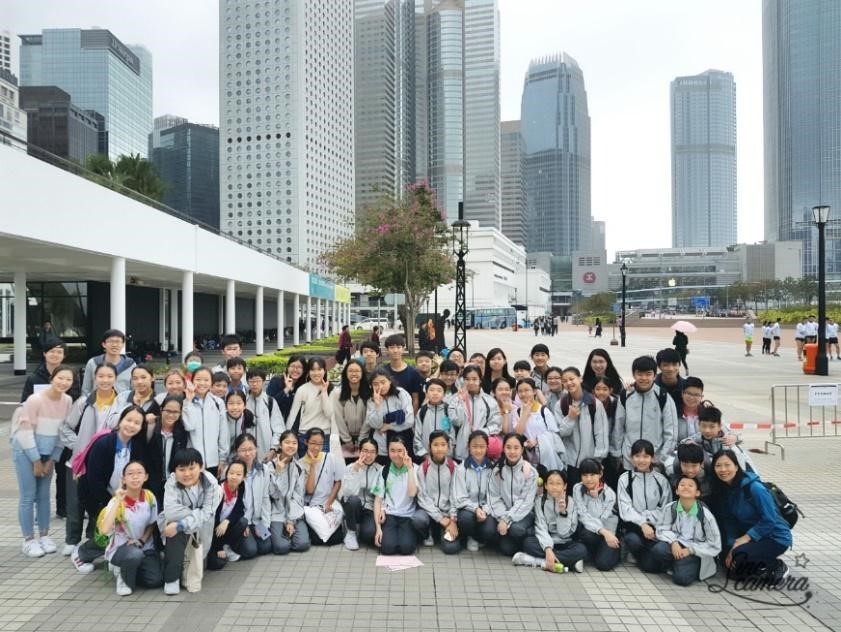 Both alumni and students have great fun in the orienteering. (Geography)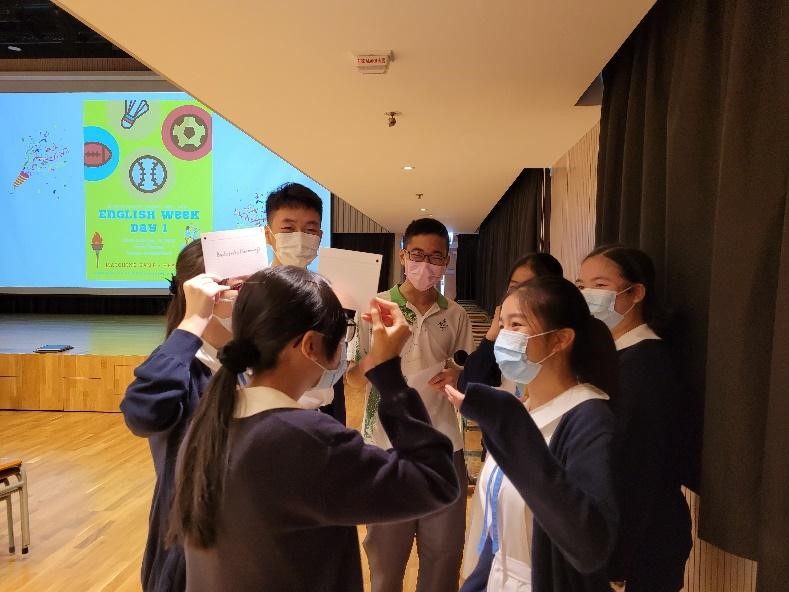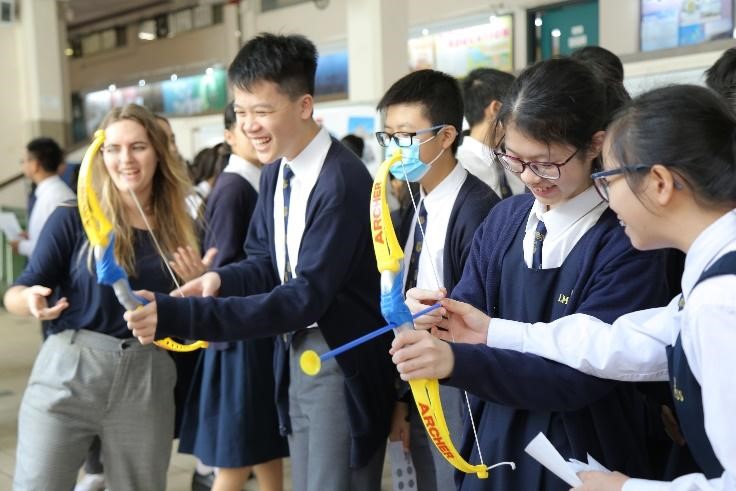 (Left) Students highly engage in the English Week activities. (English Society)
(Right) The activities of the English Week are well-received. (English Society)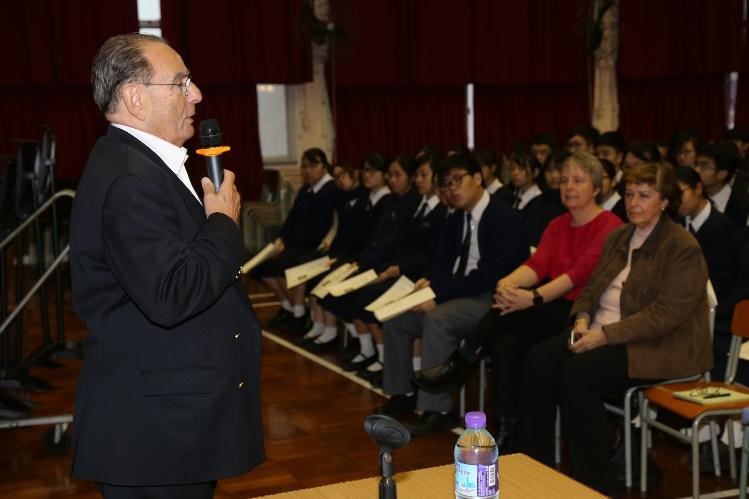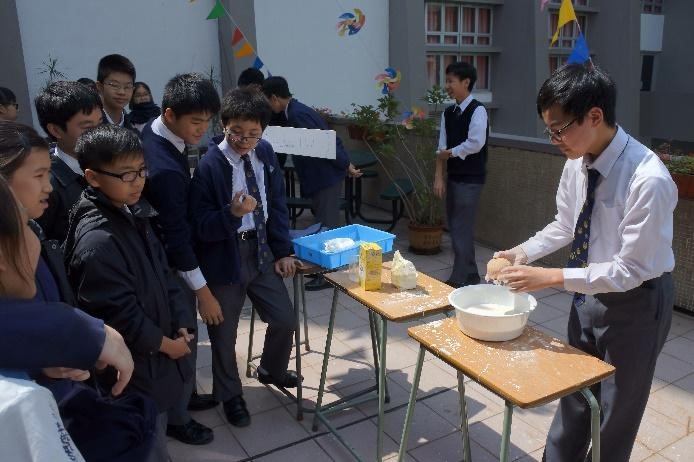 (Left) Concentration camp survivor, Mr. Micha Gelber, shares his stories with F.3 students. (English-History Holocaust Survivor Talk)
(Right) Audience excited to see the result of the experiment while listening attentively to the explanation of the possible outcome. (Science Fun Fair)
Thanks to the help of Chatteris Native English Teacher (CNET) and effective allocation of resources, English activities and board games are available throughout the school year. Not only do students have more chances to interact with native speakers, it is also observed that the leisure interactions among students boost their confidence and greatly strengthen their bonding.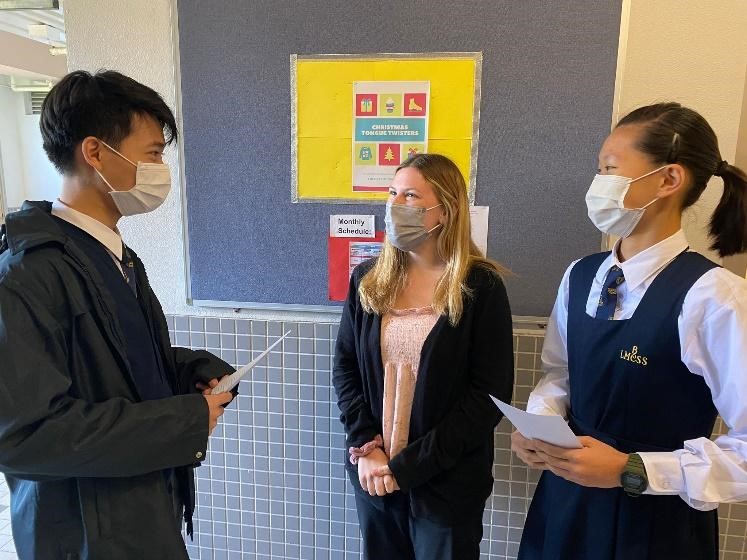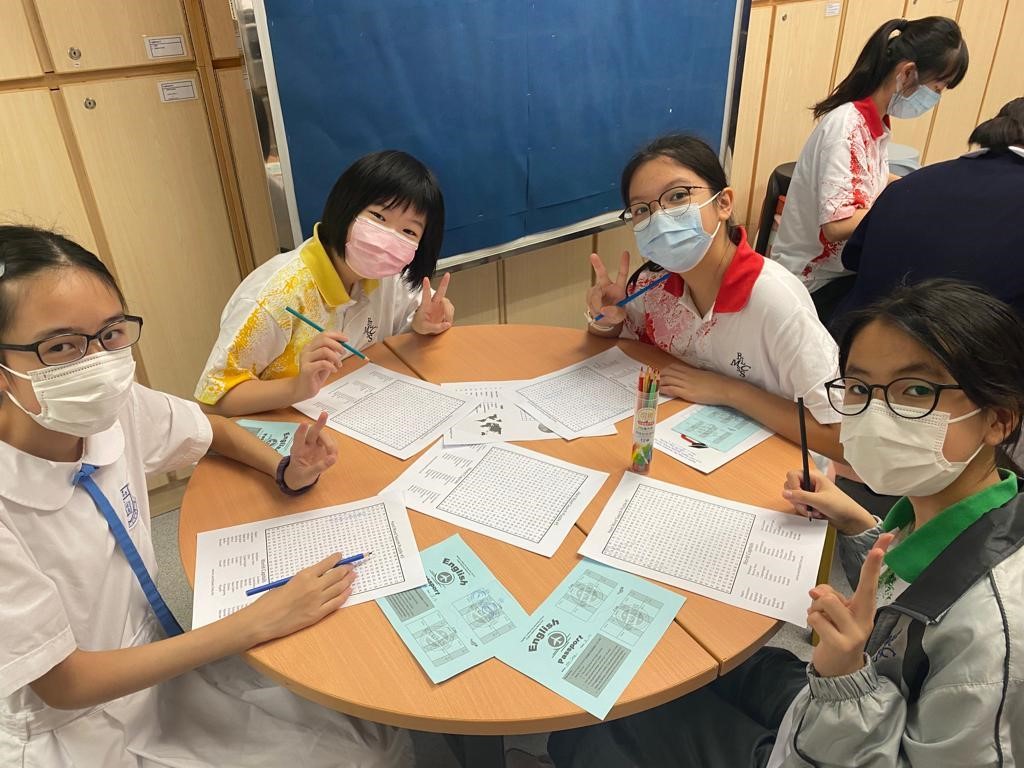 (Left) Students interact with CNET, Ms Thompson, in the year-round 'Let's Chat!' English speaking activity.
(Right) Students enjoy daily English activities with their peers during recess.
The LAC & EEPC will continue exploring the potential of cross-curricular collaboration and cultivating an English-rich environment for students in the future.