Mind Broadening Club
Objectives
The Mind Broadening Club provides opportunities for students to acquire knowledge beyond textbooks on such topics as Hong Kong culture, social issues and international news. By doing so, we hope that students can understand more about society and the world they are living in, thus nurturing analytic ability , as well as developing world vision.
Contents
We organise two inter-class common knowledge contests, for F.2 and F.3 respectively, every year. The contest consists of 3 rounds, which are in academic, news and themed topics. Past themes included the Olympics, Hong Kong movies, Hong Kong heritage, etc. Those interesting themes arouse students' enthusiasm in participating in the competition.
On the other hand, the Club sends representatives to participate in various quiz competitions every year. One of the most prominent competitions we join is the Hong Kong Cup Diplomatic Knowledge Contest. It requires extensive knowledge in diplomatic history and news, as well as techniques of public speaking. Our members have also joined the Hong Kong Inter-School Common Knowledge Contest, Hong Kong Secondary School Chinese Medicine Competition, etc since 2002, and attained numerous achievements.
Features
Student organisations that join quiz competitions are usually named the Quiz Team. However, our Club is called Mind Broadening, which shows the feature of the Club. What we value is not the results of the competitions but the training of thinking. "Mind Broadening" means broadening the mind through learning extensive knowledge, with knowledge being the basis of thinking. Through the quiz competitions, members can read and learn a wide range of knowledge, which lays the foundation for their intellectual development. Another feature is that the Club provides public speaking training, in order to help students learn to express their thoughts effectively.
Achievements
| | | |
| --- | --- | --- |
| Year | Quiz | Award |
| 14-15 | The Ninth Hong Kong Cup Diplomatic Knowledge Contest | Bronze Medal |
| 13-14 | The Eighth Hong Kong Cup Diplomatic Knowledge Contest | Bronze Medal |
|   | The Inter-school Chinese Medicine Quiz | 2nd Runner-up |
| 12-13 | The Seventh Hong Kong Cup Diplomatic Knowledge Contest | Bronze Medal |
|   | The Second Hong Kong Inter-city Long-distance Real-time Quiz | 1st Runner-up |
| 11-12 | The Sixth Hong Kong Cup Diplomatic Knowledge Contest | Bronze Medal |
|   | Chinese National Knowledge Contest | 1st Runner-up |
| 10-11 | The Fifth Hong Kong Cup Diplomatic Knowledge Contest | Gold Medal |
|   | The Inter-school Chinese Medicine Quiz | 1st Runner-up |
|   | Olympics Knowledge Contest | Champion |
| 09-10 | The Fourth Hong Kong Cup Diplomatic Knowledge Contest | Merit |
|   | General Knowledge Quiz (Team 1) | 1st Runner-up |
|   | General Knowledge Quiz (Team 2) | 2nd Runner-up |
| 08-09 | The Third Hong Kong Cup Diplomatic Knowledge Contest | WINNER |
|   | Constitutional, Basic and Environmental Laws Competition | 3rd Runner-up |
|   | Shatin District Civic Education Knowledge Quiz | Champion |
| 07-08 | The Second Hong Kong Cup Diplomatic Knowledge Contest | Merit |
|   | The Liberal Studies Cup on Basic Law | Champion |
| 06-07 | The Inter-school Chinese Medicine Quiz | 1st Runner-up |
| 05-06 | Student Quiz on Financial Knowledge | Champion |
| 03-04 | Hong Kong Inter-School Common Knowledge Contest | Champion |
| 02-03 | Hong Kong Inter-School Common Knowledge Contest | 2nd Runner-up |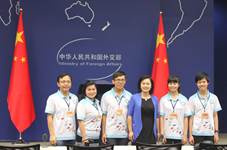 The delegation of the winners of the Eighth Hong Kong Cup Diplomatic Knowledge Contest visited the Ministry of Foreign Affairs in 2014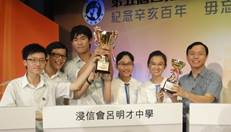 The Champion in the Fifth Hong Kong Cup Diplomatic Knowledge Contest and The Best Spokesperson in 2011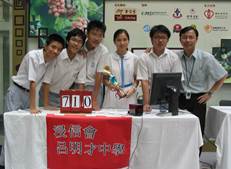 The 1st Runner-up in the Sixth Hong Kong Secondary School Chinese Medicine Competition in 2007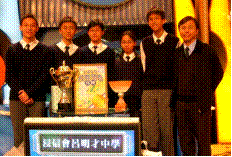 The Champion in the Hong Kong Inter-School Common Knowledge Contest in 2004